Toto Wolff: "For me, Michael is still above everyone else"
(Motorsport-Total.com) – "It's unbelievable that Lewis has now achieved this 91st victory," said Mercedes team boss Toto Wolff with his driver. But the Austrian also has to admit that Michael Schumacher will always have a special place for him. "For me, Michael is above everyone else."
After the Grand Prix of the Eifel it was clear: the record of 91 race victories is not untouchable. The Austrian has to realize that first: "Michael is an icon. That we have now caught up with this record and set the Ferrari record last year is almost unreal."
Wolff explains that for him personally Schumacher was always the most iconic racing driver. He remembers the German's Ferrari years and has to admit: "Who would have thought that this record could ever be broken?"
Wolff does not accept criticism of Hamilton records
But records are there to be broken. "I think Michael said that too. And Lewis is still on his journey. Maybe there is someone in kindergarten or school today who will one day break Lewis' records," Wolff says with a smile.
Hamilton now has a victory rate of 34.87 percent, so he has now overtaken racing legend Jim Clark and is fifth in the all-time best list. And the Briton is about to set another record for the Briton this year: the most leading laps in one season.
Clark was able to lead 71.47 percent of all rounds in 1963, Hamilton is 68.20 percent in 2020. For comparison: Michael Schumacher achieved 60.48 percent in 2004 (2002: 51.19 percent). "Achieving race victories and world championship titles is always a team task, but you have to get into this position first," says Wolff.
In his opinion, many talented drivers often make wrong decisions and are sometimes not well advised. "It was Lewis who switched to Mercedes in 2013, and it is also he who sits in the car and performs on the track with this car that we are making available to him."
The Mercedes team boss wants to emphasize the dependency on the driver and the team. Without a fast car, Hamilton would not be heading for his seventh world title, and without the British Mercedes he would probably not win the constructors' championship. "Point."
The Austrian wants to do away with the criticism that Hamilton was only able to celebrate such great successes because he drives a Mercedes. "Then all the other drivers should analyze why they didn't make the way to Mercedes."
Hamilton's development since 2013 "inspiring"
What is it that makes Hamilton so special? What distinguishes the series winner? "What impresses me most is his development as a person. The Lewis Hamilton we see today has nothing to do with the Lewis Hamilton I met in 2013," says Wolff.
Someone who already delivers at such a high level is still able to get better from year to year – as a person and as a driver. "That's really inspiring," says the team boss. Neither Hamilton nor his team had the record in mind.
"If you think too much about points, race wins or world championships, then you get distracted. You just have to get as close as possible to perfection in every session. And get as many points as possible in every race. That's why you can't get too much look at what could be. "
---
Photo gallery: Nürburgring: driver ratings from the editorial team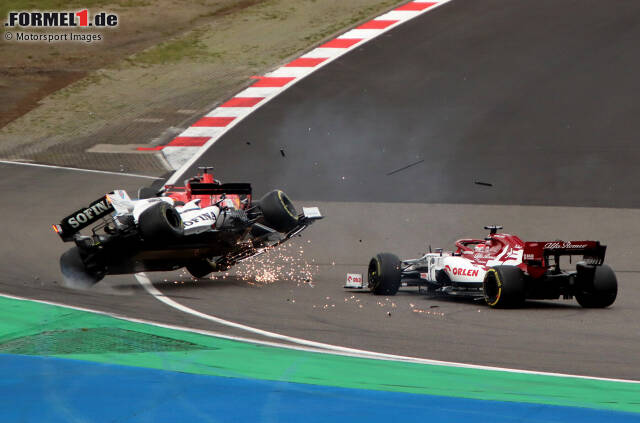 Alexander Albon (5): An editor even wanted to give the 6 here. Spanked the start, almost caused an accident, later ruined Kvyat's race and then complained over the radio about the aggressiveness of the other drivers. In the end it turned out to be 5 because at least he didn't have a complete blackout.
Photo gallery

Wolff explains: "Just concentrate on your task that lies ahead of you." With this attitude, Hamilton and Mercedes have already achieved 70 victories, 70 pole positions, 39 fastest race laps and 111 podium positions.
One can be proud of that, he adds. "However, that shouldn't lead to complacency," warns Wolff. However, he sees no risk that this could happen at Mercedes, after all, his team always strives for perfection.
What do all these successes mean for Wolff personally? "I enjoy Lewis' success as a team boss. But as I've said many times, there is not one superstar on the team, but 2,000 who contribute to the success of the team and Lewis. He assumes that more will follow "if we work well together".