Seidl: A shorter format wouldn't justify 25 races
(Motorsport-Total.com) – The fact that Formula 1 at the Nürburgring had to do without Friday met with a positive response. The necessity of the current three-day format has been questioned and no longer seems to be up to date. In Imola, the premier class will once again only have two days and could see this as a model for the future when more races await drivers and teams soon.
From a sporting point of view, this would definitely be a good step, says Mercedes Motorsport Director Toto Wolff: "Personally, I like that very much. Because if you have fewer tests and data, there is greater variability," he says. "In the end, it is not the strongest team that wins, but the one that can adapt best and is the most innovative."
He insists: "If that were a suggestion, he would have my vote." Red Bull team boss Christian Horner also considers this concept to be "interesting" and sees it as less of a chance of predictability.
Hamilton: Less training makes F1 more exciting
His driver Max Verstappen recently criticized the lack of Friday training in Imola, but the fact that there was no Friday at the Nürburgring did not bother him. He didn't miss the training, as he says to 'Ziggo Sport'. "I think it's even better that way because nobody can study their data or their onboard videos," says Verstappen.
"As a driver, you have to do everything within a day, which is absolutely fine for me," the Dutchman continues, but sees a danger: "You need a little luck with the set-up. If you get it wrong beforehand, then it will it's difficult to change that before qualifying. "
---
Photo gallery: Top 10: Forgotten Friday Formula 1 drivers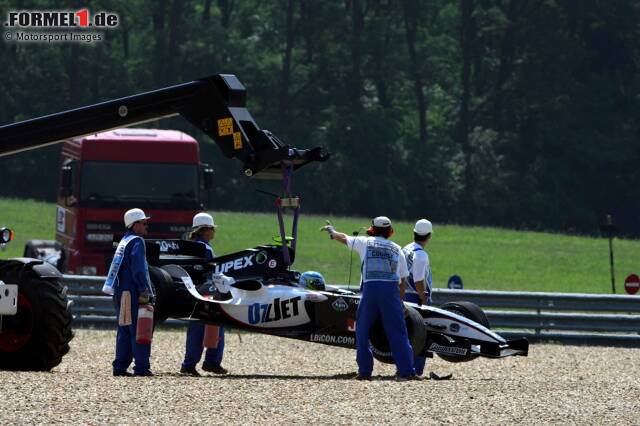 # 10 Chanoch Nissany (Minardi 2005): Well, actually the appearance of the Israeli is unforgotten, but because of his story he belongs in here. Nissany does not begin his motorsport career until the age of 38 (!) Years. He comes to Formula 1 as a test driver for Jordan and Minardi and in 2005 will have a unique chance in Hungary.
Photo gallery

For Lewis Hamilton, too, shortening the training makes Formula 1 "more exciting", so that there is nothing to be said against a change in terms of sport. And: "It saves 22 days a year, which is good," said the Briton. "22 days less in which 20 cars drive around the track and pollute the air and the planet." However, this is an aspect that is not necessarily positive for Toto Wolff.
"You have to ask the question to the promoters because they sell tickets on Friday," he says. "A lot of people can't afford the weekend tickets and can still see Formula 1 cars on Friday. That's something to consider."
Seidl: Shortening shouldn't mean more racing
However, a shortening of the format, which will be taken up in a certain way with the elimination of the media Thursday from 2021, is often seen as a compensation for additional racing weekends. Liberty Media would like to host up to 25 Grands Prix per year, and this number has also been secured in the new Concorde Agreement.
For McLaren team boss Andreas Seidl, however, a format shortening and an increase in the number of races are not in the same proportion. "It doesn't affect how many races you can do," he clarifies. "Because the problem for me is that you are away from home on these weekends. And that is not sustainable for our team members."
"Shortening the weekends to Saturday and Sunday will have a positive influence. But I would not justify that we can then use more weekends," says the German. Seidl would limit the number of races to 20 or 21 and rotate between different venues.
The problem: The teams have agreed to 25 races in the new Concorde Agreement. Why? "In the end we were happy with the overall result. That doesn't mean we have to make 25 races," said Seidl. "I am sure that there will continue to be discussions between all parties about what the right way to go."