Mexico 1990: The best overtaking maneuver of all time?
(Motorsport-Total.com) – Even if Nigel Mansell's overtaking maneuver against Gerhard Berger at the Grand Prix of Mexico in 1990 was already 30 years ago, fans are still under its spell today. Mansell's attack on the outside lane in Peraltada, one of the most terrifying corners in Formula 1, testified to courage and trust – in himself and his opponent.
If their wheels had interlocked the moment they were driving side by side, disaster would have occurred. The maneuver took place on the penultimate lap of the Mexico race, when Mansell in the Ferrari chased the Berger, who was in second place, in order to overtake him. Alain Prost was comfortably in the lead.
Mansell was not only inspired by his irrepressible ambition. The fact that Berger had previously chased him away from second place after he had passed in the slipstream on the main straight and dived into Turn 1 in front of him also spurred Mansell on.
Nigel Mansell: "It really annoyed me"
"I was so mad that Gerhard overtook me on the straight," he said in a conversation during a dinner in Mexico a few years ago. "I thought there was no way he was going to take second place for me!"
"Gerhard is a very accomplished racing driver, a winner, and he was my team-mate the year before. We knew each other pretty well. I was really annoyed when he overtook me – because all four wheels locked up on him. In the first corner I looked in the mirror and saw the smoke inside. Had I turned in normally, he would have rammed me to the side, "said Mansell, remembering the duel.
"So I left my line which gave him the opportunity to take second place. I just thought you rude guy!" Mansell then pressed Berger and looked for every opportunity to regain his position.
As they approached the super-fast right-hander for the penultimate time, Berger went inside to cover what he thought was the most obvious plan for a maneuver for Mansell. But Mansell didn't want to wait and shot around the outside, causing ecstasy among the television commentators.
It was an amazing moment even for a driver known for his cockpit bravery. "It was probably one of the biggest overtaking maneuvers of my career," says the 1992 world champion himself. "The main reason is that when I see it now, I think: did I really do it?"
"If it had gone wrong back then, we would have been seriously injured. You had to be a little crazy," admits Mansell. But it wasn't just the speed and the layout of the corner that made the moment a true Formula 1 classic.
What makes the overtaking maneuver so special
Because, as Mansell remembers, the bumpy track and the unique challenges of the lack of downforce also contributed to it: "It was pretty terrible because there were bumps in the middle of the track. We had no power steering so you keep getting on the car And the faster you drove, the more difficult it was, "he explains the problem.
"In addition, the grip level you had from lap to lap was not constant because of the altitude. There was smog and when the wind was blowing it swirled the dust around, so you didn't get the same grip level lap after lap That was unsettling, especially when you were going so fast. "
Mansell said there wasn't much preparation for where he was going to take Berger: he just knew he had to give everything to get by. "It was a spontaneous moment," he says. "I had to try because if you think too much about it, it's often too late."
"I performed the maneuver at the entrance to the corner because we were very close and I thought if he touches me now, I'll be history – for sure. But, if I'm honest, I think it will shock and also frighten him because if he had messed with me, he would have flown too, "said Mansell.
There was one more thing that made the maneuver possible: Mansell knew that if he hesitated for a second and took off the accelerator, the car would lose its balance and he would likely take off.
So once he made up his mind, he had to go through with it: "There was basically a line around him. But what I could do was somehow keep my foot down and not damage the aerodynamics. Just a little nip in the middle of the curve and I would have been history. "
Why he regrets the current Formula 1 drivers
Peraltada, as it was, is long gone. Now only the second half of the old corner can be seen in the current corner as the cars emerge from the ballpark. Mansell is aware that safety concerns have had to be paramount in recent years, but he says it is a shame that some of the more challenging corners of Formula 1 have fallen victim to it.
"I really regret that two people lost their lives in 1994 and that changed all circuits around the world forever – because we lost iconic corners," he explains. "If you look at Silverstone, the old Becketts, Copse, Stowe and Club are gone."
---
Photo gallery: The 10 most terrible corners of the Formula 1 calendar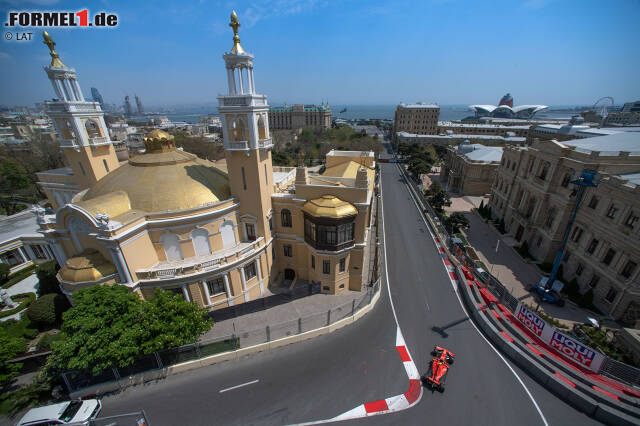 # 10 Bus-Stop-Chicane (Spa-Francorchamps): Admittedly, it is still well suited as an overtaking point, but the famous Bus-Stop-Chicane no longer exudes the same flair as before after several renovations. A mistake is hardly punished, the more problematic is the narrow and strange pit entrance.
Photo gallery

"I have to say it was done for the right reasons. But the psyche you had to have, along with the ability to try something, was different. As a racing driver, you're not suicidal, you don't want to lose your life. But you. You are." had to fight – with the right foot and the brain, because even when the head says: 'Hold back', you want to be faster. "
Mansell is touched by the fact that people are still talking about that unique Mexico moment in 1990. But he also feels a sense of sadness for today's generation of drivers who have to drive cars that he believes will not be able to repeat what he did.
"To be fair to today's drivers, we had an unfair advantage years ago," he said. "That unfair advantage we had was that we had bigger tires. We could bring our personality into the car."
"There was no power steering, no traction control, and it was all up to us. The car was constantly on the move, so we had to dance a little with it. Now the sophistication of the computer and controls has changed immeasurably. The cars can't be driven irregularly or with personality. "
Because if you do that, "the tires are so small that they wear out faster and degrade more quickly," analyzes Mansell. "So it doesn't get the best out of the whole package. The drivers have some limitations that aren't their fault." In this respect, Mansell's overtaking maneuver at Berger in Mexico in 1990 should always remain an outstanding moment for Formula 1.