Lewis Hamilton: "I will definitely never badmouth young drivers"
(Motorsport-Total.com) – Who is the best Formula 1 driver of all time? This question is particularly important after the Eifel Grand Prix, as Lewis Hamilton was able to catch up with record champion Michael Schumacher in terms of the number of race victories. The Briton himself thinks that he cannot be compared with other drivers. He also tells former racing drivers that you don't have to constantly criticize your successors.
"In all sports there is always a lot of talk about who is the best – in the present and the past. But it is almost impossible to compare the athletes, because times change, we as humans change," said Hamilton addressed after his 91st victory.
The Briton would only accept a comparison if every driver who is referred to as "the best" by observers or fans also competed against him in the same car in the same season. Otherwise the discussion will not lead to any goal for him.
Hamilton: The way is more important than the destination
"There is only constant talk about who is the best and who is not. But that is not important to me. The path is important to me. I am proud of what I have achieved and how I have made it to this point. I definitely have Made mistakes, but that's life. We all make mistakes. "
Hamilton himself admits that there is something "very special" than going down in history as the driver with the most race wins. But for him it's more about the journey there. "It's about what we did on this journey, the hurdles we had to overcome."
Besides, everyone goes a different way, in their own way. "I think you shouldn't criticize anyone for how they do something. I get criticized a lot by a lot of people, especially former pilots," he notes. Most recently, Jackie Stewart criticized the British.
Hamilton's successes were based on an "unfair advantage," the Scot said. Bernie Ecclestone also agreed with this tenor. For the former Formula 1 Zampano, Hamilton's successes are not comparable to those of Schumacher.
The six-time world champion tells his predecessors: "You still have very rigid ideas. I don't know why. Maybe one day you will get over it. I have a lot of respect for the past and the legends, including those who continue to be negative about talk to me. "
The Mercedes driver recognizes the achievements of Stewart and Co., that was a different time. "It was incredibly difficult for them back then and they remain the legends they were then." Hamilton learned something else from this: He doesn't want to fall into the same pattern when he hangs up his helmet.
"Don't have to compare myself to others"
"In 20 years, or whenever, when I look back, I promise, I won't malign a young driver who is currently celebrating successes. As an older driver, I think our job is to encourage them." Whether Max Verstappen or another driver – many will want to break Hamilton's records.
The British are aware of that. And he even wants to encourage the younger generation to do so. "It will [nach mir] other drivers give whether that will be Max or someone else who will chase the records I set. I can't wish or hope for him not to break them. That would be the wrong approach. "
Rather, Hamilton hopes that his successors will reach their full potential and do their best. "If that means they break the record, that would be great." The 35-year-old would have liked this view from his predecessors.
---
Photo gallery: Nürburgring: driver ratings from the editorial team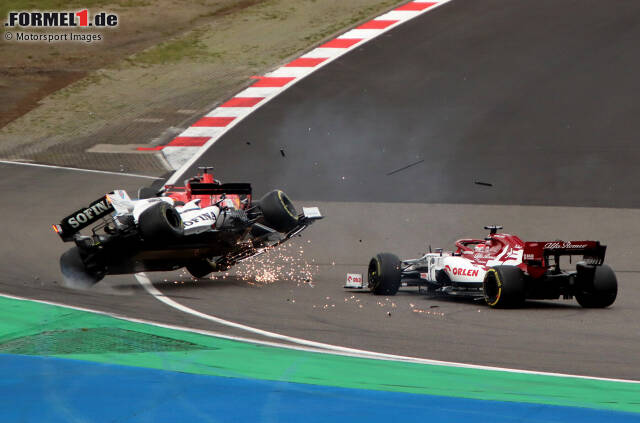 Alexander Albon (5): An editor even wanted to give the 6 here. Spanked the start, almost caused an accident, later ruined Kvyat's race and then complained over the radio about the aggressiveness of the other drivers. In the end it turned out to be 5 because at least he didn't have a complete blackout.
Photo gallery

He also doesn't deny that wins are great. But: "It is more important what you do outside of the car. There you can make a difference." Among other things, those actions and deeds will also help determine how one will be remembered in the future.
Hamilton emphasizes that he doesn't want to be remembered as the greatest of all time himself. He wants to go down in history much more than someone who cared about the world as a "good person with the best of intentions". "That's all."
Why does he resist the designation "GOAT" ("Greated Of All Time")? "It is not very important to me that I should be remembered as the best or greatest. I have great respect for all drivers of the past. I do not feel that I have to compare myself to them because I am different."
"We all love racing & share this passion"
To all those who put stones in his life's path, he also said: "I remember very well that they abused me with terrible expressions. I remember teachers who wanted to stop me and who stood in my way . But I have no negativity towards them. "
Whether it's a former kart competitor or a classmate in Stevenage, Hamilton hopes that his former companions are proud to have been part of his life. "I also hope that the former drivers and those who didn't make it see that and that they are successful in their own way. After all, we all have one thing in common, we love racing and we all share this passion."