Daniil Kwjat: Don't let Tsunoda rumors distract me
(Motorsport-Total.com) – Was the race in Sochi last weekend the last home game of Daniil Kwjat in Formula 1 for the time being? There are several reasons why the Russian will lose his cockpit at AlphaTauri: He is currently losing the team duel against Pierre Gasly significantly (14:45 points), with 82 races he has contested by far the most for the Red Bull junior team, and with Yuki Tsunoda a suitable replacement candidate is waiting.
It is an open secret that Red Bull would like to put the Japanese in the car in 2021. The last obstacle is the super license, for which Tsunoda has to be at least fourth in Formula 2 in order to have enough points – currently he is third behind Mick Schumacher and Callum Ilott, Christian Lundgaard is two points behind in the necessary fourth place .
Daniil Kwjat has to hope for his compatriots Robert Schwarzman and Nikita Masepin, who are seven points behind, still within striking distance. But even with fifth place Tsunoda would probably move up into Formula 1, because team boss Franz Tost had already announced that the Honda pupil would be given a free practice session for which there are also super license points.
But Kvjat is not distracted by the rumors about Tsunoda: "I've been in business long enough not to worry about things outside of my control," he says. What is in his power is his own performance, which was pretty good, at least in eighth place in Sochi. "I can only try to do the best possible job here at AlphaTauri."
There you can attest to Kwjat that he has improved significantly in the past races. He got a meager two points from the first seven races, but there were a total of twelve points in Monza, Mugello and Sochi. "We worked very hard and now I'm starting to see the results."
"So it would be a shame to think about something else now. And it would be unfair to my engineers," he continues. Kvyat simply wants to wait for the decision and then see. "With my experience in Formula 1 and life, questions or rumors don't bother me at all."
---
Photo gallery: Red Bull Juniors in Formula 1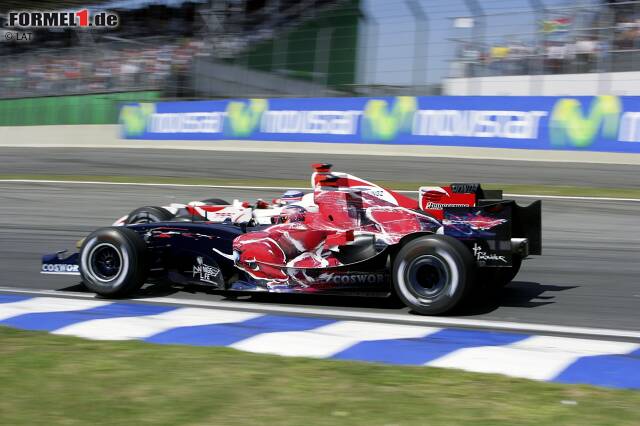 Christian Klien (2004-2010): With the support of Red Bull, the Austrian made his Formula 1 debut at Jaguar in 2004. After the racing team was taken over by the Engergy drink manufacturer, Klien also competes in most of the Grands Prix for the now in 2005 and 2006 Team called Red Bull Racing alongside David Coulthard. At the end of 2006, Klien left the Red Bull squad after disputes about switching to the ChampCar series. The Austrian will later be a test driver for Honda and BMW-Sauber and will drive three races for HRT in 2010.
Photo gallery

Unfortunately for him, the decision could be made quite late. Red Bull has to see if Tsunoda gets the necessary points. But you won't be able to do that until the Formula 2 season is over. Two events are still on the program: the two Bahrain weekends. So a decision will only be able to be made in December.
It would be useful to have an alternative in sight. From time to time he also speaks about the subject with his manager Nicolas Todt. "And we'll see if we need to know anything about anything. Right now we're hanging something between the chairs," he says. "Now it's time to think about the race weekends. The calendar is so tough and every race counts."