After Sainz-Crash: "It would be wrong to blame someone else"
(Motorsport-Total.com) – In our photo series of the "10 most terrible corners of the Formula 1 calendar" a few weeks ago, corner 2 of Sochi took the undisputed first place. At the Russian Grand Prix this Sunday, it was impressively shown why. Drivers were fined several times for not getting back on the track properly. But today Carlos Sainz shot the bird.
At the start, the McLaren driver had to avoid the run-off zone and, like Max Verstappen, drive back between the styrofoam signs in front of him. In order to lose as little time as possible, the drivers race through this provisional chicane with as much speed as possible. Verstappen did well, but Sainz did not.
The Spaniard caught his left front wheel on the concrete wall and turned back into the field. The biggest victim besides himself was team-mate Lando Norris, who had to slow down and therefore fell back to last place. This curve has been a thorn in the side of many for years, but Sainz cannot blame anyone but himself.
Sainz: Misjudgment from me
"I didn't have a good start on the dirty side. In turn 2 I had someone on my inside and I got a little far out. So I decided to drive around the signs," he says. "The angle was very, very tight and I just underestimated my speed and hit the wall hard."
He admits: "That was a miscalculation on my part, a mistake. I apologize to my team for that."
Because for McLaren the race was basically over. "Lando had to stop and was last. We had nothing more to lose, so we brought him in during the safety car and gave him hard," says team principal Andreas Seidl. "We just wanted to get through and were hoping that another safety car or something would come along. But that didn't work."
"The curve shouldn't exist"
The racing team was therefore able to score zero points, but it is important for Seidl that nothing happened to his driver in the accident. "Carlos reported that he is fine. I think his foot has been damaged a bit, but it doesn't look like something bad," said the German, who does not yet know to what extent the monocoque has been damaged.
---
Photo gallery: The 10 most terrible corners of the Formula 1 calendar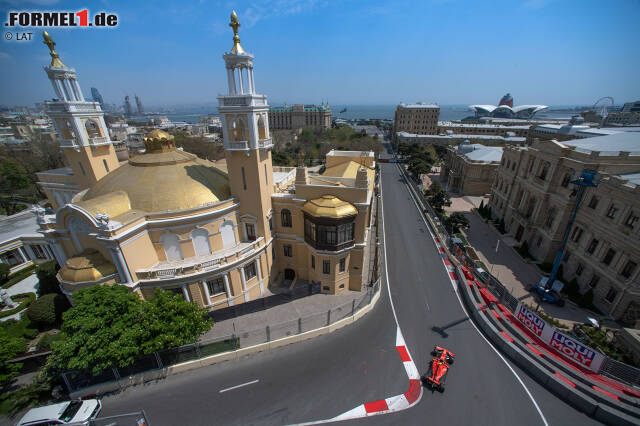 # 10 Bus-Stop-Chicane (Spa-Francorchamps): Admittedly, it is still well suited as an overtaking point, but the famous Bus-Stop-Chicane no longer exudes the same flair as before after several renovations. A mistake is hardly punished, the more problematic is the narrow and strange pit entrance.
Photo gallery

For him, too, the question of guilt is clear: "It was his mistake. I think it would be wrong to blame someone else or something else for it."
The corner itself is no excuse for Sainz, even if he thinks little of it: "I still think that the corner shouldn't exist. It's not nice to drive and creates such situations. But in the end I have the fault made."