"A problem every year": What do you do with Sochi's curve 2?
(Motorsport-Total.com) – "Hopefully they will find a better solution for next year," says Sebastian Vettel, referring to Turn 2 in Sochi. This was criticized again last weekend after several incidents. Not only did the FIA ​​punish several track limit violations, Carlos Sainz did the styrofoam chicane because he wanted to get back on the track so quickly that he hit the concrete wall.
But the curve has not only been criticized since 2020. The corner has been rebuilt again and again in recent years – not from the basic layout, but how to get back on the track. "Turn 2 was challenging in a different way every year. When we solved one problem, a new one appeared," says race director Michael Masi.
In any case, Daniel Ricciardo finds the provisional chicane strange: "The geometry was weird," he says, referring to his own little ride, which ended up with a five-second penalty. "I braked myself and knew that it would be tight. The way the curve is shaped, you have the hope that it will be enough until the last second."
"But at a certain point you can't go back, otherwise you would probably lose more than five seconds. Of course, I also said, I'll just keep going, and if I get a penalty, I'll just accept it," said the Renault driver.
Masi repeats: Gravel is not the solution everywhere
Max Verstappen also drove into the run-off zone on the first lap, but then drove through the Styrofoam signs at full throttle without losing much time. To prevent this, some sides would like a gravel bed at the point, but Masi repeats his words from Mugello: "Gravel is not the solution everywhere."
Formula 1 sports director Ross Brawn also sees it this way: "There is an ongoing struggle to prevent the drivers from violating the track limit. If you land in the gravel, you wouldn't take advantage of it, but they'll do it on asphalt. But if you had gravel everywhere, it would be thrown on the track and you would lose cars when they depart. We don't want that. "
"So you are damned if you do it and you are damned if you don't," said the Briton. For him, on the one hand, asphalt is the better solution, but on the other hand you need track limits so that drivers don't abuse the run-out. "I am sure that the FIA ​​and Michael Masi will take another look at Turn 2 and see if there is a better solution."
FIA looks to solutions – conversion possible?
And there is, according to Masi. Although he thinks the current solution is "usable", he admits that there is still room for improvement. For him, it's always a balancing act: on the one hand, you want to make the return of the driver as safe as possible, but on the other hand, you want to slow down the driver if possible.
"The way curve 2 is, it is very difficult to find a solution that meets both criteria," says the race director. "We'll take another look at it and see what can be done."
---
Photo gallery: The 10 most terrible corners of the Formula 1 calendar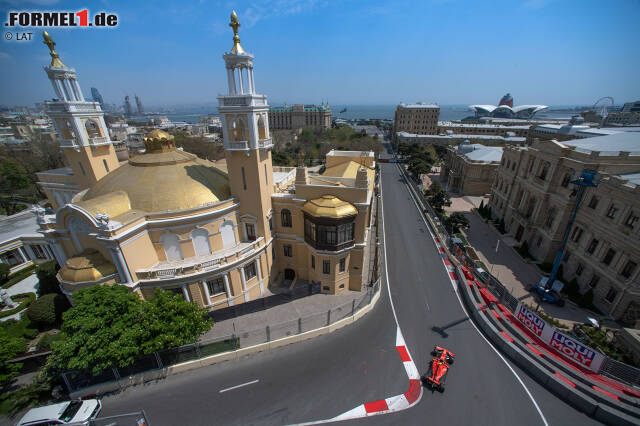 # 10 Bus-Stop-Chicane (Spa-Francorchamps): Admittedly, it is still well suited as an overtaking point, but the famous Bus-Stop-Chicane no longer exudes the same flair as before after several renovations. A mistake is hardly punished, the more problematic is the narrow and strange pit entrance.
Photo gallery

George Russell recently brought another idea into play and addressed it in a meeting. The Williams driver would change the whole course of the turn in a moment and make it more like Turn 1 in Bahrain. "You could do something better with her in general," agrees Ricciardo. "Simply to enable more overtaking maneuvers."
He too would shape the curve differently and not make such a short apex, for example. "You have a lot of space to play with," says the Australian. "We already talked about it. Maybe that would fix the problems with this abbreviation as well."